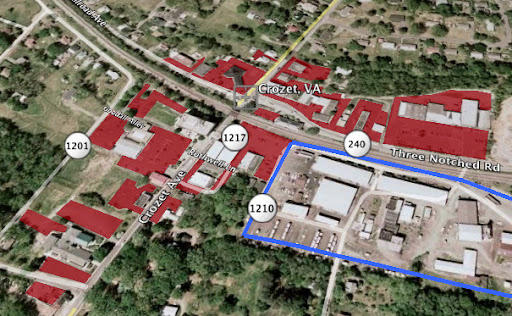 Downtown Crozet, Virginia
Sometimes the introduction of new technology has the ability to shift cultural perceptions. I wonder if
widespread use of Google Earth
will help us perceive something that has been a reality for the last four decades, that the majority of land in our urban areas is reserved for the storage of automobiles. Off-street parking is the dominant feature of most towns and cities across the United States.
Pictured above is the downtown of Crozet, Virginia with all off-street parking and other non-public vehicle access areas depicted in red (the area within the blue line is industrial). To me, this is a striking image. I'm using Crozet as an example because it's small enough to draw easily, and
the 2004 Crozet Master Plan
specifically calls for the downtown to function as a compact urban hub. I don't mean to suggest that Crozet, in particular, is "overparked." At least according to the standard measuring rod planners use, Crozet is probably right on target. I just wonder who is measuring the measuring rod according to a wider standard of common sense and wise use of limited resources.
Donald Shoup
has estimated that
the total amount of off-street parking in the United States is roughly equivalent to the State of Connecticut, and this is often some of our most valuable land in the hearts of cities and towns. Using the satellite imagery to view this from far above allows us to back up for a moment and ask some critical questions about what we value. If the ancient Chinese had the
Great Wall
and the prehistoric residents of modern Peru had the
Nazca Lines
, we have a parking lot the size of Connecticut. That's what we look like from space.